Back in January, there were two camps when it came to predicting the Giants' 2020 season. Those who said we'd struggle to win a game, and those who said we'd recruited well and would have a strong season. Turns out, both sides had some merit. On the one hand, we know that the club will make it to August having only lost one Super League match, in the top 5, ready to go top once we've played our games in hand. On the other, we know we'll have made it to August without winning a single game at home. It has been - to put it in the mildest terms possible - a strange season.
Between Storm Ciara (which, unbelievably, happened this year) and the minor issue of a global pandemic, you'd be forgiven for not remembering all the minutiae of Huddersfield's season so far. Here's a quick recap to bring you up to speed
Wednesday 22nd
We pick up a second win with a strong performance against
Wakefield
. Ashton Golding unfortunately picks up a serious hamstring issue, ruling him out for the opening months. As we reported in this tweet, which aged like milk.
Saturday 1st
Round 1 of Super League sees the club head to Perpignan to face
Catalans
, where a Man of the Match Super League debut for Sezer gives us a comfortable win, while
James Gavet
and
Kenny Edwards
make their first appearance in the Claret and Gold. Back in Yorkshire, our Reserves side put in a dominant performance over
London
to win by 40 points.
Sunday 9th
The Giants are scheduled to play their home opener against Leeds, but the game is postponed just hours before kick off due to Storm Ciara
Friday 14th
A Huddersfield-Salford double header at the AJ Bell. Our reserves side win
42-6
, before the first team win a
much tighter game
. A last-gasp effort from Ken Sio isn't enough to outdo the damage of a Kevin Brown sinbinning and a Lee Mossop brainfart.
Tuesday 18th
After a few weeks on dual-reg at Halifax,
Oliver Roberts
takes up a season-long at Salford.
Friday 21st
One of the windiest games in recent memory, the Giants make the best of the conditions and
overcome Hull KR
to go top of the league with a game in hand, making them the last undefeated side in the competition.
Wednesday 26th
Thanks to lots of tireless work from several Super League clubs, Huddersfield and Leeds are able to rework their entire April schedule to fit in the postponed game. Yikes.
Saturday 29th
Our reserves side pick up a
40-26 win
at Hull KR, keeping us unbeaten in all competitions and the top of both Super League and the Reserves Championship
Sunday 1st
The John Smith's finally sees some rugby, but it's not pleasant viewing for the home fans. A strong 30 minute opening is in vain, as a 12-man side capitulates, leading to an
easy Wigan win
. The bubble bursts.
Friday 6th
The bubble unbursts. An outstanding defensive performance and a spectacular Jake Wardle effort hands the reigning champions their first
home defeat
in a year and a half.
Sunday 8th
It's back to Saints for a double header. Our academy side pick up a
close win
, while our reserves side suffer a
heavy defeat
Wednesday 11th
The Giants did nothing to squash rumours of an illness in the camp (no, not covid), putting in a disappointing, sluggish performance, getting embarrassingly
nilled
and dumped out of the Challenge Cup by the previously winless Toronto Wolfpack. With talk of a pandemic getting worse, this would be the last first team game for the next five months.
Friday 13th
Leeds vs Catalans is the first Super League game to be cancelled due to the worsening crisis, as Richard Agar's team make the decision to not fly to Perpignan.
Sunday 15th
Our reserves side pick up a
32-0 win
over Newcastle, in the final outing for any Claret and Gold side for some time.
Monday 16th
Just 3 days before our scheduled home game against Hull FC, an initial month-long suspension of the season is formally announced.
Wednesday 22nd
The reserves competition is officially cancelled for 2020. Huddersfield get their first top-3 finish of the year, with only one loss all season (if you don't laugh, you'll cry).
Sunday 14th
Oliver Russell
becomes the sixth academy graduate to extend his stay at the club
Saturday 20th
Oliver Roberts extends his loan period at Salford, keeping him there to the end of the 2021 season
Friday 26th
The announcement we were all waiting for, confirmation that Super League will return in August, starting off with a triple header on August 2nd, with Huddersfield vs Leeds the headline game
Louis Senior and
Adam O'Brien
find themselves at the top of the try scoring charts with 3 each. Sezer's try and 16 goals have him comfortably as our top points scorer. Just behind Louis and Adam in the try tally is Jerry, who leads the metres and carries for the side, while
Darnell McIntosh
has the most tackle busts. In defence, AOB is our top tackler with 227, while the ever-dependable Ukuma Ta'ai and Michael Lawrence are our most efficient tacklers, with a 97 and 96% success rate respectively. As always, you can get more details on our
Seasons
page.
The Giants come into Super League 2020 2.0 in a very strong position. With just one loss under our belts, we find ourselves fifth in the league with two games in hand, despite already having played the likes of Saints and Catalans away from home. Under the old system, that was enough for a play-off spot, but under the new top-4 play-offs we'll have to move up the league to have a chance of silverware. That said, with both us and Leeds two games behind Wigan, Cas and Warrington, it seems likely the winner of our August 2nd clash will be top of the league once everyone finally gets to 7 games, with the loser not far behind.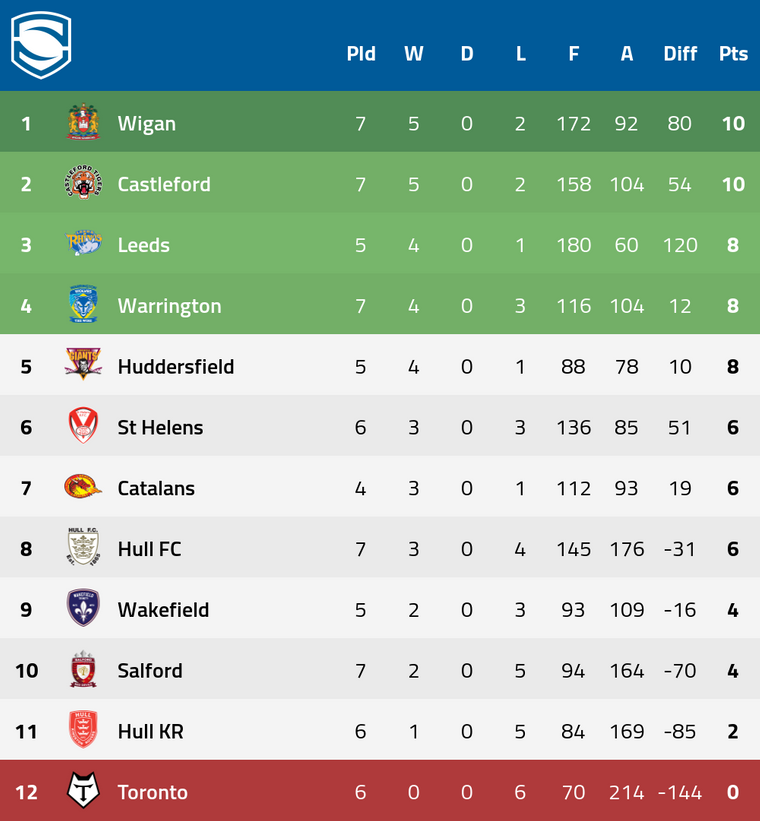 Elsewhere, our women's side have been made to wait for their first ever Super League game, while just 3 rounds into the season, our undefeated academy side sit second in their league with a game in hand