It's good to be back. After what feels like an eternity, we're Super League is finally back. After an outstanding start to the season and a long hiatus, Simon Woolford's men will be looking to carry on their good form and continue their march towards the play-offs.
And what a game it promises to be. Two teams who had a disappointing 2019, who've recruited well and have (so far) seen the benefits. Both sides knowing a win will leave them top of the league ahead of the full season restart next week
Form counts for very little when we've had to wait over 4 months for a game, but these are fundamentally the same Huddersfield and Leeds sides we saw light up the competition in the early stages. Both sides won 4 from their opening 5 games (although Leeds' game against Toronto has now been expunged from the record), with Leeds losing heavily to Hull in round one, and Huddersfield capitulating to Wigan in Round 4.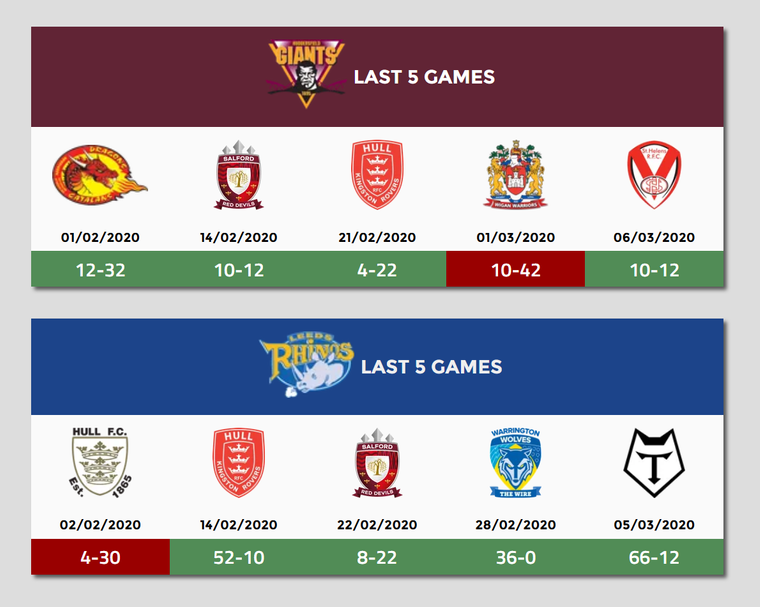 The Giants will no doubt be boosted by the return of Ashton Golding to the side. After seriously impressing in preseason, there'll be no doubts about him wanting to make a good first impression in his Super League debut for Huddersfield, not least with it being against his old side. With McGillvary, Joe Wardle, Ta'ai and Clough missing from the 21-man squad, the situation isn't ideal, but with the quality we have in depth, Giants fans hopefully shouldn't have to worry.
I'd expect our 1-7 to be pretty straightforward, with one of the Senior twins taking the right wing spot. Presumably, after impressing in the opening rounds, Sam Wood will get his chance in the back row, interchanging with Murphy and Edwards. The big question is whether we have Adam O'Brien play 80 minutes and stick to the kind of powerful bench that allowed us to dominate the middle in the first half of the season, or whether we opt for a second hooker and bring Tom Holmes into the game. Frankly, I don't think there's a
wrong
answer there (which is probably why I'm not paid to be a coach), but I know which way I'd lean. Leeds will likely be going for two hookers, with Leeming and Dwyer taking it in turns against their former employers, so in that sense you could argue alternating OB & Holmes would make sense. But speaking to
Yorkshire Post
, Woolford seems to be of the opinion that the forwards and defence will be the ones who will feel the brunt of the "six again" rule the most:
"I think my concern is the load defensively, it is going to be a bit of a shock to the system for our middles in particular " -Simon Woolford
So while I think we'll see more of Holmes as the season progresses and the side deals with shorter turnarounds, I'd expect us to go for an extra big man on the bench tonight. We've seen that OB certainly can do 80 minutes, so with two weeks recovery before the Warrington game, I think we'll opt to add some size, not least to compensate for the loss of Wardle, Clough and Ta'ai. Expect to see Matagi, English, Gavet, Walne and Wilson all in the mix
I was tempted to label
Adam O'Brien
as our key man. He was arguably our best player before the hiatus, smashing it in both attack and defence. But after going back and forth, I'm opting for
Ashton Golding
. With at least three of our first-choice pack missing, he'll be working overtime to marshall our defence and lay down a marker for his role at the club going forwards.
The loss of Jack Walker is a big one for the away (?) side, not least for the fact that the OB vs Kruise narrative would have paired nicely with Golding vs Walker. Leeds are also missing Stevie Ward but are otherwise at full strength.
If six-again really is going to affect the middles hardest, then the Giants will have their work cut out for them dealing with the Rhinos pack. While we're light in the second-row this week, Rhyse Martin and Alex Mellor have the potential to do some serious damage, while Cameron Smith has been one of the surprise stars of the season so far at loose forward.
But their key man on his debut against his old club will be
Kruise Leeming
. Giants fans are certainly no stranger to Kruise's talent and speed from dummy half, and trying to limit him off the back of repeat sets will be essential if we're going to put in a strong defensive effort. Bruno and OB have been on fire with marker tackles this year (another reason to give Adam 80 minutes?), and will need to be at their best to control him.
Who wins? I have absolutely no idea. We have two well-matched sides, with near identical form, not that form counts for much as we're effectively starting a new season with the bare minimum "preseason training" to boot.
Personally, I see this as a defensive battle in light of the post-COVID rule changes, and that's where it gets interesting. The Giants are missing some key forwards, but in regaining their first-choice fullback, they've got a great organiser who can bring the best out of the side, especially on the goalline. Leeds' are pretty much at full strength in the middle, but whoever replaces Jack Walker will be under big pressure to keep the likes of Sezer and Gaskell from exposing their tryline. This may seem an obvious thing to say about any rugby league game, but this weekend in particular, whoever impresses the most in defence will take the two points and go top of the league.