As we head into the final five rounds of the regular season, the race for the top eight of Super League is looking very interesting. With the fixture count finally evened out following the postponed games last week, 7th, 8th and 9th are separated by a single point. Leeds and Huddersfield currently sit safe with 15 points, while Catalans remain close behind on 14. So how does the rest of the season stack up for the middle section of the table, and who should be sweating it the most?
It's tough to say who has the best run of fixtures out of the three teams in question. Based on league position, you'd say the Giants had the easiest week ahead, but the embarrassing home defeat to Rovers is still fresh in the memory, and with Danny McGuire and Robbie Mulhern returning to the KR squad, anything could happen Friday night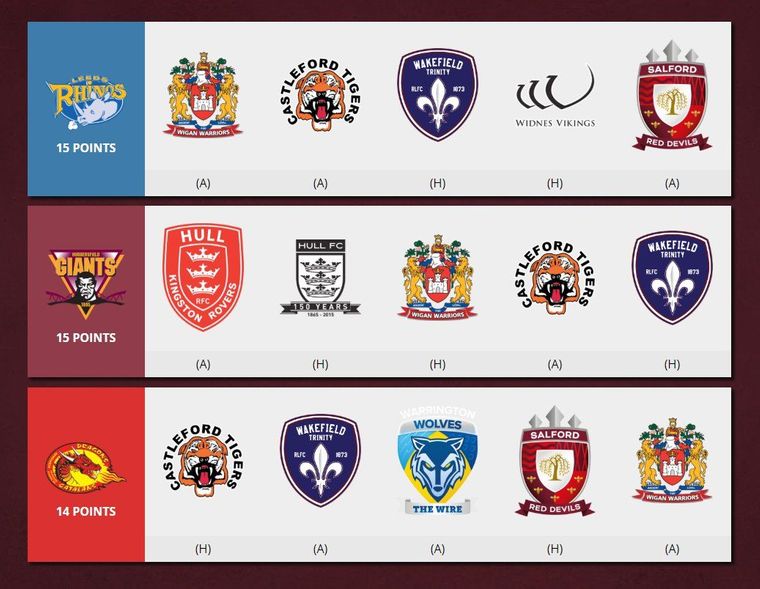 In terms of travelling, the Giants have a slight edge over the competition, playing three home games while Leeds and Catalans have only two. Catalans will have the most to fear here, with trips to Belle Vue, the Halliwell Jones and the DW in the coming weeks. The Dragons welcome Castleford on Saturday, and should they fail to pick up the two points, the top 8 will start to feel ever more out of reach.
What's interesting about the upcoming rounds is the common fixtures - all three sides still have Wigan, Castleford and Wakefield to play. When you remove these games from consideration, the difference in the upcoming challenges becomes more clear-cut.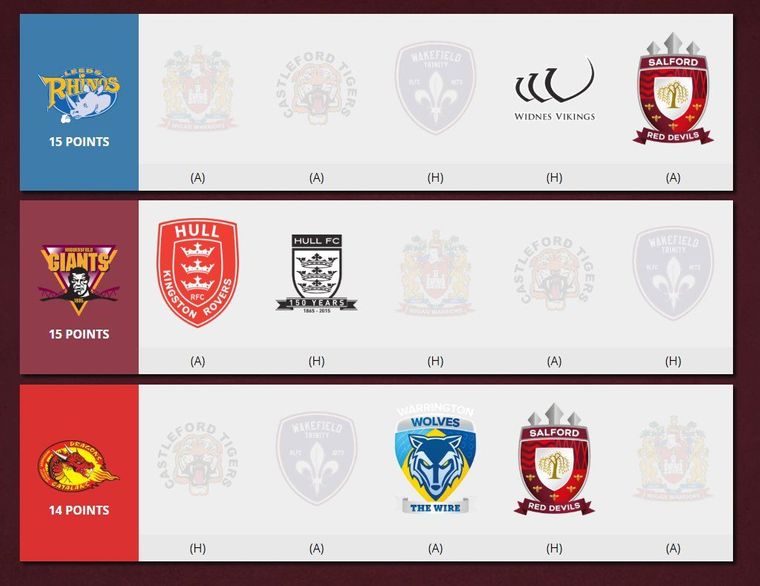 If we're going purely off league position, Leeds seem to have the advantage here as their remaining two fixtures come from 10th and 12th placed clubs in Salford and Widnes. Huddersfield and Catalans each get a bottom-three side (Hull KR and Salford, respectively) but also a team higher up the table (Hull FC and Warrington). However, to say that these teams will expect an easy win against the bottom three sides, would be very naïve...
Because, of course, there's a lot more to it than league position. Recent form doesn't necessarily reflect the year-long standings, and of the three sides, Leeds look to be in the most trouble in this regard. Having won just one of their last nine games (including home losses to both Huddersfield and Catalans in the past three weeks), Leeds will be on a mission to turn things around, while their two competitors will be looking to improve on the momentum they already have. Behind St Helens, Huddersfield are arguably the form team in Super League at the moment, having won five games in a row. While Catalans fell to the Giants in our last fixture, their form has picked up as of late, and seem to finally be clicking as a side.
There's more to this story than the three teams we've spoke about. Three points ahead of Leeds and Huddersfield are Wakefield. I'd be very surprised to see them drop below eighth following their win over Widnes, but stranger things have happened in Rugby League, and Trin have been inconsistent this year. They travel to St Helens this week, a game few will expect them to win, despite the upset in the reverse fixture. Should they fail to defeat Justin Holbrook's men, and the three teams below them pick up wins, then they'll sit only two points clear of safety. With fixtures against all three of these teams, plus one against Hull FC, it's too early for Wakey to get complacent.
On the other side of the pack is Salford, who are just two points (and 14 match-points) behind Catalans. They face a difficult trip to Warrington this Friday, and while a loss will most likely put them out of reach of 8th, however if Salford win and Catalans lose - with a combined winning margin of over 14 - Salford leapfrog Catalans into 9th. For this reason, Giants fans should really hope for an upset at the Halliwell Jones. The longer Salford have a path into the top 8, the better – as the last thing we want is for them to put out a reserve team for their final two games – Leeds and Catalans – in preparation for the Middle 8s.
All three teams will have their positives and negatives going into the final month of the Super League Regular Season.
The most obvious advantage Leeds currently hold is their league position, although that could soon change with a trip to the DW, a ground they've not won in since 2013. They've also got the most comfortable fixture list, even if their two lower-league encounters come at the end of the season. Unfortunately, there's no such thing as an easy game in Rugby League, especially if you're out of form. Leeds' poor record over the past 2 months will be weighing them down, a loss at the DW will see them head to Castleford with just one win in ten games. McDermott and his team will know that 7th – and indeed 8th - is far from safe.
The Claret and Gold will hope their current form, extra home game and extra point over Catalans will be enough to see them through. They have, arguably, their most comfortable fixture up next in a trip to Hull KR, but it's by no means going to be an easy game, especially given the outcome the last time the two sides met. The main negative for Huddersfield is their abysmal -220 points difference. Catalans have -110 in comparison, while Leeds have -34. This means a draw for Catalans is as good as a win, and should the Giants finish joint-eighth with any other side, it'll be another trip to the Qualifiers for them.
Despite losing their winning run to the Giants, Catalans are in good form and spirits will be high in the Perpignan camp. As we mentioned in the last paragraph, as long as Huddersfield are within touching distance, les Dracs will be more than happy to settle for a draw in a difficult game, as barring a few miracle scorelines, the Giants will finish the regular season with the worst points difference in the league. However they have the toughest run of fixtures with three away games – including a Saturday trip to Wakefield followed by a Thursday game at Warrington – and this could well see them fall behind the competition and into the €1.136m Game.
The (reluctant) Prediction
You can make arguments to say why any one of these three teams are the most or least likely to fall to the qualifiers. And frankly, in a season packed full of surprises, you wouldn't bet your house on any one of those conclusions.
Gun to my head, maybe unsurprisingly, I see the Giants' form being a key factor here. 5 wins from their last 5 Super League games (making Simon Woolford the most successful Super League coach of all time, don't @ me) will give the boys a huge boost. Mamo, Clough, Ukuma, Fergie and Brough will be back in the side in the coming weeks, boosting our squad depth. With rumours of Wakeman being recalled to the squad, and the potential arrival of Jackson Hastings, there's a lot to be positive about in the Giants camp. Conversely, there's not much positivity coming from Leeds fans right now, but I think there are enough obstacles in Catalans' way for the Rhinos to hold onto eighth place.
That said, in 72 hours things could look totally, totally different.