After an unforgettable 65 minutes followed by 15 (and a bit) minutes to forget against Leeds, the Giants have had a week's rest ahead of their second post-restart fixture, and will no doubt be looking to transfer that same intensity from the first half into an 80-minute performance.
Because while it would be foolish to ignore the impact of injuries to the likes Turner and Murphy leading to Leeds' comeback, not to mention "that" try, such results are part of a wider pattern with the Giants, as unfortunately illustrated in this cautionary tweet:
You can draw a lot of parallels between our two Super League losses this year. Both times we started out the much stronger side, but didn't convert that dominance and pressure into any kind of significant points lead. An unexpected and unfortunate change of line-up (the sinbinning of Sezer against Wigan, the injuries against Leeds) gave the opposition a chance to exploit weaknesses, and we didn't do enough to combat it.
It's not that we don't have resillience, the very fact that we came back from that heavy Wigan defeat and gave Saints their first home loss in over a year despite an early injury to Gaskell and continued pressure on our line, shows that we've got a better grip on the resolve that's been lacking in recent years.
Both teams come into this fixture effectively in joint-second, with 8 competition points each, although a relatively small points difference of 32 to 9 sees them sit in third, to our seventh. The Giants do however have a game in hand over their opponents.

The recent head-to-head form is less close, unfortunately. After finally overcoming Warrington as our bogey team, nilling them consecutive years in a row, it seems we've slumped back into our old ways, losing our last four games against the Wolves, with our last win coming in February 2018. Over half of the players from
that game
have since left the club, with just four in contention to play this Saturday.
It's not like we haven't gotten close to a win though. In fact our last game at the Halliwell Jones started pretty well. We were the better side for the first 40, and went into the changing rooms at half time 19-12 up. But then we got some injuries in the second half and lost 50-19. Spotting a pattern yet?
Nobody will be more aware of this bad run of form than
Simon Woolford
. In fact, something stands out when you look at his Super League coaching record: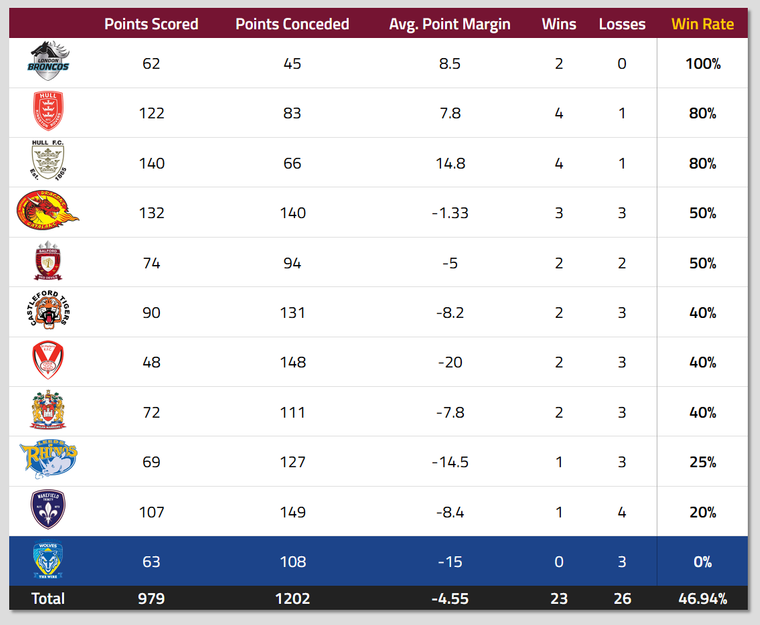 Warrington are the only club Woolford has failed to defeat in Super League. He'll be desperate to right that wrong this Saturday night. So how can he pull it off?
It's three in, three out for the Giants this week. Lee Gaskell (thumb), Aaron Murphy (shoulder) and Innes Senior drop out of the 21-man squad named to face Leeds, and while Gaskell in particular is a big loss, we're boosted by Ukuma Ta'ai and Jermaine McGillvary's returns from injury, plus the inclusion of Sam Hewitt.
As good as Louis Senior has been, I expect McGillvary will take his place in the side. Ukuma will come straight in for Murphy, giving Sam Wood another game in what is becoming an impressive season for the academy graduate.
With players like Daryl Clark and Blake Austin pulling the strings, Warrington are capable of moving very quickly around the ruck, and the six-again rule will work in their favour more often than not. But for that first hour against Leeds, we did a really good job of defending deep and stunting their momentum (Turner and Murphy in particular were effective here), so if we can limit their options early on we'll have a much stronger chance.
Our key man will be
Oliver Russell
. With Gaskell out for the next five weeks, the 21-year-old will likely be paired up with captain Aidan Sezer for the foreseeable future, and will be looking to show the world why he's got what it takes to become a Super League star in his own right. Replacing Gasky is no easy task (for me he was easily the best player on the field in our post-restart opener), but Olly is no stranger to the first team. He was our top points scorer in 2019 (in no small part thanks to his 7-goal Magic Weekend performance) and has been the difference in a number of close games in his relatively short career, kicking the decisive goal against the likes of Leeds and Catalans in previous seasons.
With the possible exception of Anthony Gelling, Warrington will have a full-strength side to pick from. Ben Murdoch-Masila will probably come into the side that beat Hull KR last week, possibly onto the bench, with Matty Ashton moving to fullback and Stefan Ratchford to centre.
But for me, Steve Price's key man will be
Jack Hughes
. Giants fans know that while he rarely has flashy moments, he's an absolute workhorse, who's capable of consistently putting sides under pressure for a full 80 minutes. With our habit of tailing off in the final 20, keeping him under control and tiring him out will be key to grabbing our first win of the post-COVID era
Looking at the league, we've got two evenly-matched sides, both looking to end the weekend in the top 4. Looking at the head-to-head stats, we have a Warrington side who seemingly have worked out the formula to getting the better of us. Looking at the squads? It's too close to call. The Giants definitely have what it takes to get the win, and if we can stick to our gameplan for the full 80, it's ours to lose.