For the second time this year, the Super League 2020 fixtures have been announced. After the COVID panic forced the suspension of all sport (
here's a reminder
of the year so far, in case you need one), rugby league fans have been eagerly anticipating the return of the Betfred Super League, and following the initial announcement of an August 2nd triple-header, today we were finally treated to the full fixture list. While things are a lot less clear than they were the
first time we tried this
, here's a quick breakdown of what we do know: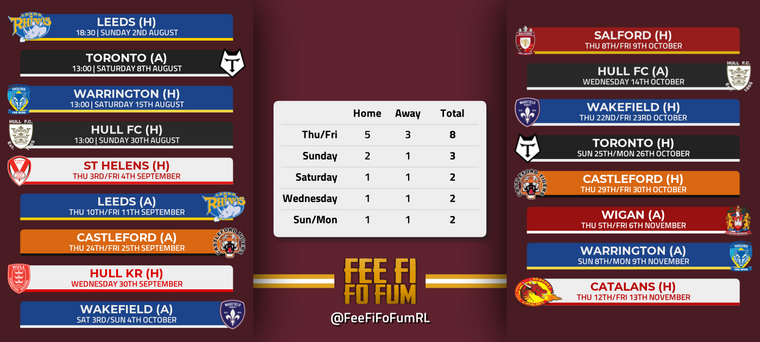 After that, we know we have two Wednesday games against the two Hull clubs, with
KR (September 30th)
and
FC (October 14th)
, but beyond that our remaining 11 fixtures don't yet have a fixed date. They've all been allocated a two-day period - for example we'll play St Helens on either the 3rd or 4th of September, and Castleford on either the 24th or 25th. It's safe to assume that once a date is confirmed for a game, a time will follow.
Our final regular season game will be against Catalans, on either Thursday 12th or Friday 13th of November, with the semi finals expected the week after and the Grand Final scheduled for the last weekend of November.
How often are we playing?
For the first two months, the turnaround times aren't really anything out of the ordinary, with the Giants set to play once a week - with the a week off around the weekends of August 22nd and September 19th, likely for the Challenge Cup.
The shortest turnaround in the early months is against Wakefield, which will be on either the Saturday or Sunday after our Wednesday visit to Hull KR. Our other Wednesday fixture against Hull FC is followed by a free weekend, again likely to be the Challenge Cup
The final six fixtures are where thigs get very tight, with six games (Wakefield, Toronto, Castleford, Wigan, Warrington and Catalans) across 3 weeks. Presumably this is down to attendance - if fans are potentially able to attend games in a few months time, it makes sense to delay as many as possible, but it raises serious questions about player welfare. The fact that we'll potentially be playing Wigan, Warrington and Catalans in the space of a week is really concerning. If anyone makes it out of that week without a concussion it'll be nothing short of a miracle
So far just three venues have been announced. Our first two games will be at Headingley, and our Warrington fixture will be at St Helens. Expect venues to be confirmed on a week-by-week basis. Not that it matters hugely, as it's unlikely fans will be attending games any time soon.
Will the fixtures change?
Almost definitely, welcome to Rugby League. What's written here is accurate as of July 16 but don't be surprised if it all changes tomorrow.
One thing to consider, is that as teams are eliminated from the Challenge Cup, we may see some Super League games rescheduled to "cup weekends".
For example, say Warrington don't make it to the Cup semi finals, scheduled for October 18th. We end up with two possibilities
Warrington and Huddersfield both choose to have October 18th off, and then play 3 games in 8 days, right before the Super League play-offs

Warrington and Huddersfield move their Super League game to October 18th, and get a full week between their final two games
You'd think Option 2 would be preferable, although it could be complicated if Sky take issue with it.
This all assumes the Challenge Cup will be taking place. If the Championship doesn't resume this year, the cup may be off too. In which case, you'd hope the fixtures are updated accordingly
How can I stay up to date?
We've got you covered. Head to our
Fixtures
page and create a calendar link. You'll be able to add this to your calendar service of choice (Google, Apple, Outlook, etc), and it will automatically update as dates, times and venues are announced